Wemyss Malts Spice King Blended Malt Scotch Whisky 8 year old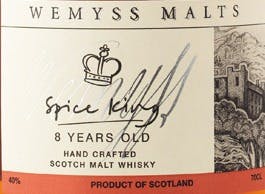 This is a blend of malt whiskies, with an emphasis on 8 year old Island malt. Out of the cask the colour is of pale straw, accentuated in this blend to the colour of fine old amontillado sherry. On the nose, there is a hint of spice as the name suggests with a slight trace of carbolic soap. The dominant flavour is fresh and reminiscent of damp moss, with undertones of freshly-turned earth on a clear Scottish day. On swallowing, this develops into a sweet spicy character which lingers pleasantly to be enjoyed to the full. This whisky is not chill-filtered and so contains all its original goodness.
Wine EnthusiastThe initial bouquet features pleasing smells of caramel corn, honey, new leather and baking spices; following aeration the bouquet turns foresty, spicy and a bit minerally. Palate entry is chalky, sooty and slightly metallic; midpalate adds tastes of barley, dried nectarine, white raisins and orange rind. Finish is sweet with touches of oil and peat.