Broadbent Madeira Malmsey 10 year old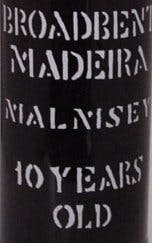 Aged in oak casks for at least 10 years. A superb, full-bodied, wonderfully rich Madeira with a sweet, rich chocolaty flavor and a concentrated bouquet. Best enjoyed with desserts, or on its own after a meal.
Wine EnthusiastThe Madeira regulations say that 10-years old is the age of the youngest part of the blend. So this richly sweet Malmsey contains many older wines. These are shown in the old gold color, the proper citrus acidity and the dryness that goes with wood aging. At the end, though, the liquid honey flavors are dominant.
Wine SpectatorSweet and hot, with a cloying character and not enough concentration to the caramel and soya flavors to balance all the elements.